Product Description
Featuring a 1-inch CMOS sensor that can shoot 4K/60fps videos and 20MP photos, the Phantom 4 Pro V2.0 grants filmmakers absolute creative freedom.
The OcuSync 2.0 HD transmission system ensures stable connectivity and reliability, five directions of obstacle sensing ensures additional safety, and a dedicated remote controller with a built-in screen grants even greater precision and control.
A wide array of intelligent features makes flying that much easier. The Phantom 4 Pro V2.0 is a complete aerial imaging solution, designed for the professional creator.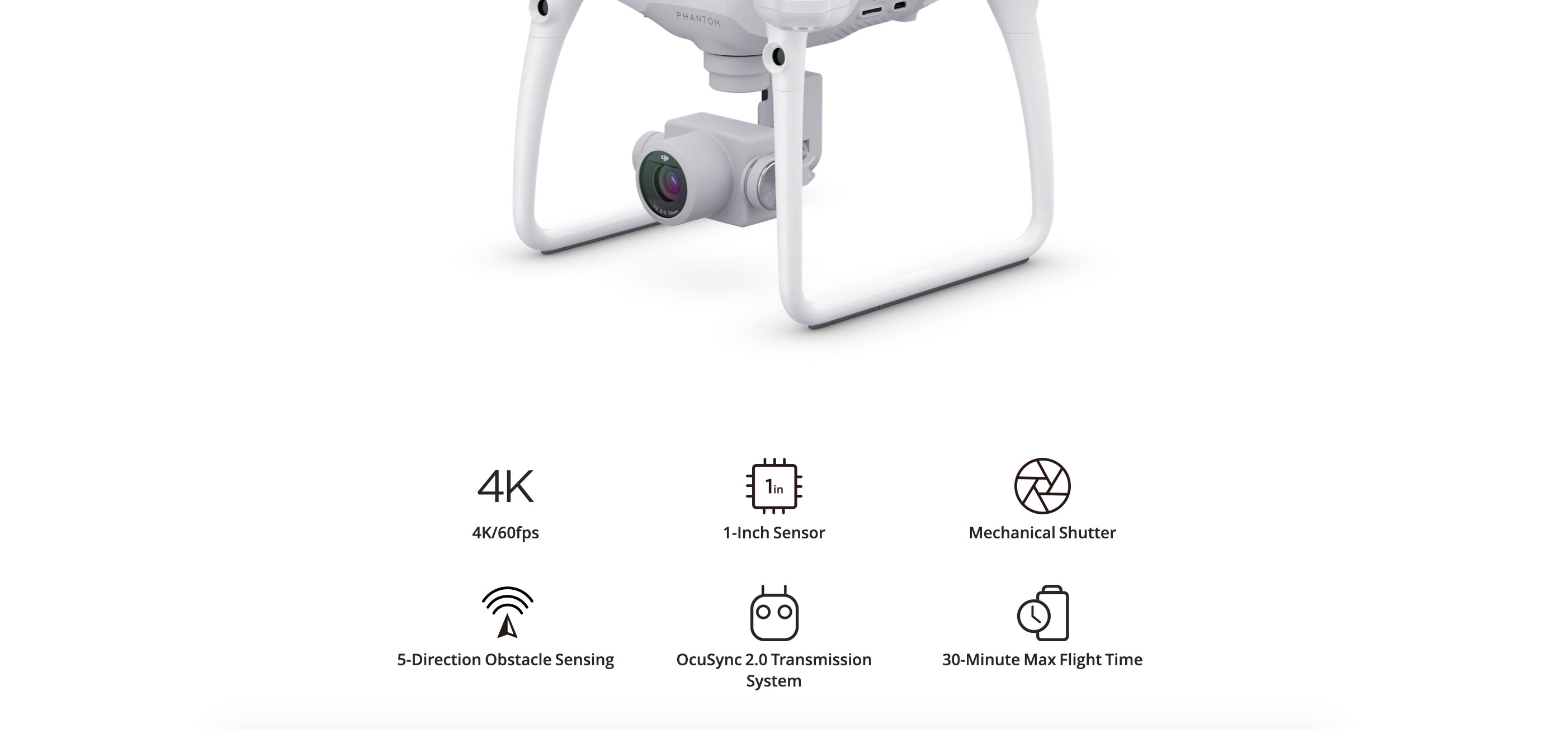 AIRCRAFT
Weight (Battery & Propellers Included)
1375 g
Diagonal Size (Propellers Excluded)
350 mm
Max Ascent Speed
S-mode: 6 m/s

P-mode: 5 m/s

Max Descent Speed
S-mode: 4 m/s

P-mode: 3 m/s

Max Speed
S-mode: 45 mph (72 kph)

A-mode: 36 mph (58 kph)

P-mode: 31 mph (50 kph)

Max Tilt Angle
S-mode: 42°

A-mode: 35°

P-mode: 25°

Max Angular Speed
S-mode: 250°/s

A-mode: 150°/s

Max Service Ceiling Above Sea Level
19685 ft (6000 m)
Max Wind Speed Resistance
10 m/s
Max Flight Time
Approx. 30 minutes
Operating Temperature Range
32° to 104°F (0° to 40°C)
Satellite Positioning Systems
GPS/GLONASS
Hover Accuracy Range
Vertical:

±0.1 m (with Vision Positioning)±0.5 m (with GPS Positioning)

Horizontal:

±0.3 m (with Vision Positioning)±1.5 m (with GPS Positioning)
GIMBAL
| | |
| --- | --- |
| Stabilization | 3-axis (pitch, roll, yaw) |
| Controllable Range | Pitch: -90° to +30° |
| Max Controllable Angular Speed | Pitch: 90°/s |
| Angular Vibration Range | ±0.02° |
VISION SYSTEM
Vision System
Forward Vision System

Backward Vision System

Downward Vision System

Velocity Range
≤31 mph (50 kph) at 6.6 ft (2 m) above ground
Altitude Range
0-33 ft (0-10 m)
Operating Range
0-33 ft (0-10 m)
Obstacle Sensory Range
2-98 ft (0.7-30 m)
FOV
Forward: 60° (Horizontal), ±27° (Vertical)

Backward: 60° (Horizontal), ±27° (Vertical)

Downward: 70° (Front and Rear), 50° (Left and Right)

Measuring Frequency
Forward: 10 Hz

Backward: 10 Hz

Downward: 20 Hz

Operating Environment
Surface with clear pattern and adequate lighting (lux>15)
INFRARED SENSING SYSTEM
| | |
| --- | --- |
| Obstacle Sensory Range | 0.6-23 feet (0.2-7 m) |
| FOV | 70° (Horizontal), ±10° (Vertical) |
| Measuring Frequency | 10 Hz |
| Operating Environment | Surface with diffuse reflection material, and reflectivity > 8% (such as wall, trees, humans, etc.) |
CAMERA
Sensor
1-inch CMOS

Effective pixels: 20M

Lens
FOV 84° 8.8 mm/24 mm (35 mm format equivalent) f/2.8-f/11 auto focus at 1 m-∞
ISO Range
Video:

100-3200 (Auto)

100-6400 (Manual)

Photo:

100-3200 (Auto)

100-12800 (Manual)

Mechanical Shutter Speed
8-1/2000 s
Electronic Shutter Speed
8-1/8000 s
Image Size
3:2 Aspect Ratio: 5472×36484:3 Aspect Ratio: 4864×364816:9 Aspect Ratio: 5472×3078
PIV Image Size
4096×2160 (4096×2160 24/25/30/48/50p)

3840×2160 (3840×2160 24/25/30/48/50/60p)

2720×1530 (2720×1530 24/25/30/48/50/60p)

1920×1080 (1920×1080 24/25/30/48/50/60/120p)

1280×720 (1280×720 24/25/30/48/50/60/120p)

Still Photography Modes
Single Shot

Burst Shooting: 3/5/7/10/14 framesAuto Exposure Bracketing (AEB): 3/5 bracketed frames at 0.7 EV BiasInterval: 2/3/5/7/10/15/20/30/60 s

Still Photography Modes
Single shot
Burst shooting:3/5/7 framesAuto Exposure Bracketing (AEB):3/5 bracketed frames at 0.7EV bias
Timelapse (3/5/7/10/20/30/60 sec)
Video Recording Modes
H.265
C4K: 4096×2160 24/25/30p @100Mbps
4K: 3840×2160 24/25/30p @100Mbps
2.7K:2720×1530 24/25/30p @65Mbps
2.7K: 2720×1530 48/50/60p @80Mbps
FHD: 1920×1080 24/25/30p @50Mbps
FHD: 1920×1080 48/50/60p @65Mbps
FHD: 1920×1080 120p @100Mbps
HD:1280×720 24/25/30p @25Mbps
HD: 1280×720 48/50/60p @35Mbps
HD: 1280×720 120p @60MbpsH.264
C4K: 4096×2160 24/25/30/48/50/60p @100Mbps
4K: 3840×2160 24/25/30/48/50/60p @100Mbps
2.7K: 2720×1530 24/25/30p @80Mbps
2.7K: 2720×1530 48/50/60p @100Mbps
FHD: 1920×1080 24/25/30p @60Mbps
FHD: 1920×1080 48/50/60 @80Mbps
FHD: 1920×1080 120p @100Mbps
HD: 1280×720 24/25/30p @30Mbps
HD: 1280×720 48/50/60p @45Mbps
HD: 1280×720 120p @80Mbps
Max Video Bitrate
100 Mbps
Supported File Systems
FAT32 (≤32 GB); exFAT (>32 GB)
Photo Formats
JPEG, DNG (RAW), JPEG + DNG
Video Formats
MP4/MOV (AVC/H.264; HEVC/H.265)
Supported Storage Devices
microSD

Max Capacity: 128 GB

Write speed ≥15MB/s, Class 10 or UHS-1 rating required

Operating Temperature Range
32° to 104°F (0° to 40°C)
REMOTE CONTROLLER
Operating Frequency
2.400-2.483 GHz and 5.725-5.850 GHz
Max Transmission Distance
2.400-2.483 GHz, 5.725-5.850 GHz (Unobstructed, free of interference)
FCC: 10000 m
CE: 5000 m
SRRC: 5000 m
MIC: 5000 m
Operating Temperature Range
32° to 104°F (0° to 40°C)
Battery
6000 mAh LiPo 2S
Transmitter Power (EIRP)
2.400-2.483 GHz
FCC: 26 dBm
CE: 20 dBm
SRRC: 20 dBm
MIC: 17 dBm
5.725-5.850 GHz
FCC: 26 dBm
CE: 14 dBm
SRRC: 20 dBm
MIC: –
Operating Current/Voltage
1.2 A@7.4 V
Video Output Port
GL300K: HDMI

GL300L: USB

Mobile Device Holder
GL300K: Built-in display device (5.5-inch screen, 1920×1080, 1000 cd/m2, Android system, 4 GB RAM+16 GB ROM)GL300L: Tablets and smart phones
CHARGER
| | |
| --- | --- |
| Voltage | 17.4 V |
| Rated Power | 100 W |
INTELLIGENT FLIGHT BATTERY
| | |
| --- | --- |
| Capacity | 5870 mAh |
| Voltage | 15.2 V |
| Battery Type | LiPo 4S |
| Energy | 89.2 Wh |
| Net Weight | 468 g |
| Charging Temperature Range | 41° to 104°F (5° to 40°C) |
| Max Charging Power | 160 W |
APP / LIVE VIEW
| | |
| --- | --- |
| Mobile App | DJI GO 4 |
| Live View Working Frequency | 2.4 GHz ISM, 5.8 GHz ISM |